Tavistock Museum Shares In Cornish Mining Triumph
An independent evaluation report into the Cornish Mining World Heritage Site's inspiring Discover the Extraordinary project confirms that it has given the region a big tourism boost. The report based on recent visitor surveys contains a list of impressive findings including one that 15% of our visitors now say that they are drawn to Cornwall and west Devon because of its World Heritage Site status. Visitors attach importance to the mining history of the area, to the mining attractions to visit, and to the many opportunities to cycle and walk tramway, moorland, forest and canal paths, often beside spectacular mining scenery.
Tavistock Museum was one of eleven mining attractions in Cornwall and west Devon which received funding from the £2.4m project to boost their visitor footfall. The museum was awarded £57,500 which has been spent on a variety of ways to improve the museum and promote the World Heritage Site. This has included the first stage of the recent museum development, the purchase of five new cabinets for community exhibitions, and the making of a short film on the Bedford Cottages in Tavistock. The museum made a contribution of £6,000 towards this funding from its own fundraising activities.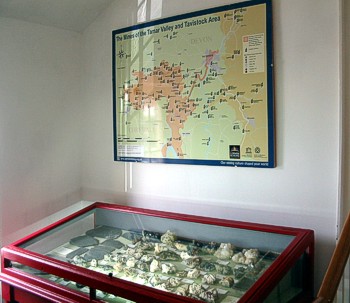 This season Tavistock Museum uses its new ground-floor visitor area to promote the World Heritage Site by showing visitors short films about the nineteenth century mining activities and how the mining landscapes look today. A real hit with visitors has been a mining map of the Tamar Valley and Tavistock Area which shows the location of the principal mine sites, above a cabinet with an impressive display of minerals from some of these mines. Last year the museum which is open daily from Easter until the end of October received over 7,500 visitors, almost double the visitors before the museum was extended.
Roderick Martin, Secretary to the Tavistock Museum Charitable Trust, said 'The partnership between the Cornish Mining World Heritage Site and Tavistock Museum has successfully created a first rate visitor centre for Tavistock which will be to the long term benefit of our town and regional tourism.'

The Discover the Extraordinary project was funded and supported by the EU/DEFRA Rural Development Programme for England, Cornwall Council, Devon County Council, West Devon Borough Council, CoaST, and UNESCO which inscribed the WHS in 2006.