American WW2 Veteran's Visit to Tavistock
'Seventy years later I am back in Tavistock' were the first words said by Don McCarthy, a cheery United States WW2 veteran now ninety years old, when he arrived at Abbotsfield Hall, now Abbotsfield Nursing Home, on Sunday morning. Don served with the 116th Regiment of the 29th Infantry Division during WW2. Accompanying Don on his trip to England and later to the D-Day commemorative events in Normandy were his cousin, Father William O'Shea, and Charlotte Juergens, a great-grand-daughter of another veteran. Charlotte from Yale University is compiling a film and photographic record of this remarkable trip by one of the last of the surviving American WW2 veterans.
At Abbotsfield Hall they were met by Rose and Bill Clark, and Trevor Minett from the Devon and Cornwall Military Vehicle Club, Shirley Rose (daughter of a 29th Infantry Division serviceman) and Roderick Martin from the Tavistock Museum, and Sheila Jeffery, housekeeper at Abbotsfield Nursing Home. Trevor Minett brought along Vixen Tor ii, a replica of the control jeep used by Major General Gerhardt, commander of the 29th Infantry Division who had his Divisional Headquarters were at Abbotsfield Hall.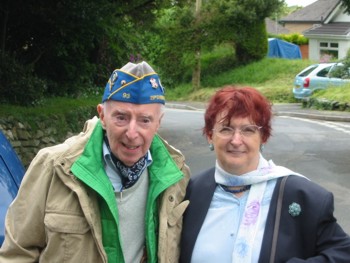 Don said that his previous visit to Abbotsfield Hall was a very brief one seventy years ago when he was only twenty years old. He recalled that in January 1944 on arrival in England he found himself in a truck travelling west from Chard with eighteen other US servicemen who were dropped off at various locations to which they had been assigned. Don had been assigned to the 116th Regiment's Headquarters at Ivybridge but instead was dropped off with his kit at the Divisional Headquarters of the 29th Infantry Division, Abbotsfield Hall in Tavistock. So his arrival was unexpected, and worse still, no spare sleeping accommodation was available for him. It was eventually decided that as Major General Norman Cota, the second-in-command of the Division, was away Don should sleep in the general's room that night.
As one may guess in the middle of the night Major General Cota returned to Abbotsfield Hall and wanted to know what Don was doing in his bed. Fortunately the general, on realising what had happened, took it all in good part insisting that Don stayed in the bed that night, and the next morning took him into the officer's mess for coffee and toast. As both the general and Don were from the Boston area they had much to talk about and got on rather well. Later that morning the mix-up was sorted out and Don was driven to the 116th Regiment's camp at Ivybridge.
While at Abbeyfield Hall Don asked to visit the room where a meeting between the allied generals Eisenhower, Montgomery and Gerhardt was held which destined that the 116th Regiment of the 29th Infantry Division would spearhead the assault on Omaha Beach in Normandy. Don recalled that in the early summer of 1944 he was aware the assault on Europe was imminent but nobody knew when and where it was to take place. Don was in the first waves of American troops on Omaha Beach, an experience one could simply not ask him about. There are accounts on the internet.
After the visit to Abbotsfield Hall Don got into the jeep Vixen Tor ii for the short journey down to Guildhall Square. Here Don paid his respects in front of the plaque to the officers and men of the 29th Infantry Division who lost their lives during WW2, and later visited Tavistock Museum where there is currently an exhibition commemorating the departure of the American forces from Tavistock for D-Day.
Inside the museum there was a surprise in store.
Don met for the first time in seventy years Noel Blackler from Plympton. In 1944 Noel was the nine year old paperboy who delivered newspapers to the American camp at Ivybridge where Don was based. Noel said that the American's favourite newspaper was the Daily Mirror in which the cartoon heroine Jane invariably ended up in a state of undress. On leaving the museum Don and others were presented by the stewards with museum mugs which have the 'Blues and Greys' insignia of the 29th Infantry Division.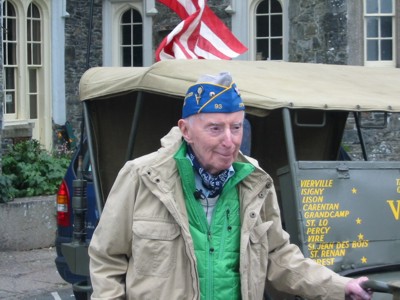 Roderick Martin, Secretary to the Tavistock Museum Charitable Trust stated 'Don McCarthy was delighted with the very warm welcome given to him, and has asked me to thank everyone at Abbotsfield Hall Nursing Home and Tavistock Museum. All who met him were impressed by his cheerfulness, energy and presence on an emotional occasion which sadly will be one of the last times an American WW2 veteran re-visits Tavistock. We wish Don and his party safe journey to the D-Day commemorative events in Normandy.
Support the museum using Gift Aid
Charity No: 1200011
Museum Accreditation No: 2127