Donation of Research Information to Tavistock Museum by Joseph Toland
Press Release - September 2016
On Wednesday 14th September 2016 Joseph Toland, a lifelong inventor, who now lives in Horrabridge, presented to Tom Young, Chairman of the Tavistock Museum Trust, documents on disk relating to his researches. Mr. Toland, a former Tavistock Grammar School pupil, has recently been nominated for a prestigious environmental award, the Zayed Future Energy Prize, for his work in developing the 'Jetstream Wall' design for tidal lagoons. This efficiently harnesses the power of the tides to produce electrical energy.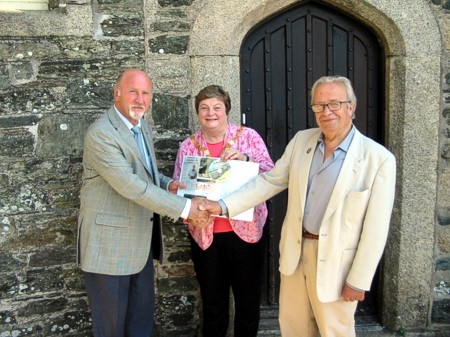 Joseph Toland (left) presents documents to Tom Young (right), with Tavistock Mayor Mandy Ewings (centre)
Tom Young stated he was delighted to accept the disk on behalf of the museum. He remarked that museums are places which store the past but in this case the museum will be storing the future. He urged the Government to think twice about the nuclear option currently being promoted by foreign interests, and suggested instead they look closer to home at the green energy technology becoming available as a result of the work of Mr. Toland and other British inventors.