Richard Woollcombe Painting Exhibition - October 2017
The Tavistock Museum will be hosting an exhibition of portrait and landscape paintings by the late Richard Woollcombe from the 16th – 31st October 2017. The museum will be open daily and there will be an extended opening from 10.00am to 4.00pm for this exhibition. There will be no entry charge but as always a donation is much appreciated.
Richard Edward de Ambrosis Woollcombe – or Dick as he was known to everybody – was one of the last surviving Tamar Valley market gardeners of the post-war period and a member of the Tavistock Group of Artists. He spent most of his life at Rumleigh in the Tamar Valley, where his father had bought some fields in 1929 to set up a market garden.
Dick was born in 1919 at Florence, Italy. His father, Major Frank Woollcombe, was a career soldier who had met his mother, a half-Italian lady, Beatrice de Ambrosis, when convalescing in Italy.  Dick attended Mount House School (then in Plymouth), before becoming an aircraft designer at Bristol Aeroplane Company and at Miles Aircraft. His war service was spent as a pilot in RAF Coastal Command hunting enemy submarines.
On being demobilised in 1946, Dick took over the market garden from his ailing father. His engineering skills in devising equipment and developing a system of movable glasshouses on a shoe-string budget often put Rumleigh Fruit and Flower Farm at the forefront of horticultural innovation. He was featured in an issue of The Grower, the trade journal for market gardeners, as well as in Sovereigns, Madams and Double Whites, a book about the history of market gardening in the Tamar Valley. Over the next four decades the market garden evolved as demand changed: out went apples and hothouse crops, in came pick-your-own. He married his wife, Phoebe Morshead, in 1952 and they had two sons, Alan and Graham.
Dick was an enthusiastic and talented painter. His subjects ranged widely and his output was prolific. His landscapes, painted in oils from 1966, were mainly of local places but some are from elsewhere in Britain and abroad. For portraits, he often used a model engaged by the Tavistock Group of Artists, which held monthly meetings in what is now the Fenner Room at the Museum. As these portraits are not named, people may like to see if one of them features a member of their family from thirty or so years ago! He had a great sense of fun, shown in many sketches and cartoons, as well as some painted household items – as a market gardener he had to be a competent carpenter.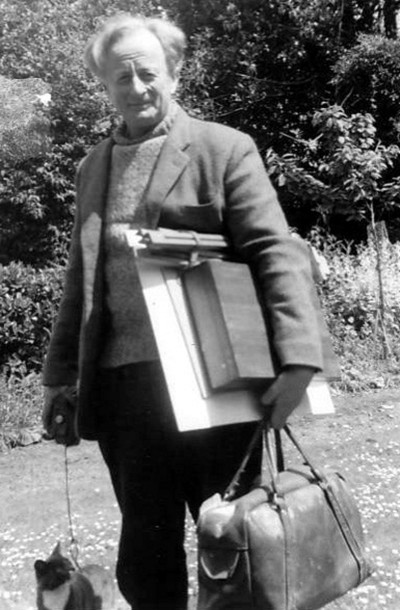 A series of Dick's humorous paintings featuring country-life were turned into a book called The West Country Year. He donated the originals to Plymouth's Derriford Hospital, where they are on permanent display. The Hospital is kindly lending two to the Museum for the exhibition, while the booklet of the whole series, with descriptions by Dick, will be on sale at the Museum.
Richard Woollcombe died aged 97 in 2016.
The Museum is grateful to Jane Miller and Helen Voller for arranging this exhibition, to Diane Brimacombe of Derriford Hospital for the loan of pictures, and to Alan Woollcombe and Mimi Petit for their support for the exhibition and permission to show the pictures.
Support the museum using Gift Aid
Charity No: 1200011
Museum Accreditation No: 2127