Memories Of A Special Volunteer
On Sunday 22nd October 2017 Graham Kirkpatrick, who lived in Parkwood Road, Tavistock and was a familiar figure in Tavistock, passed away aged 91. In recent years he was the carer for his wife Brenda, and could often be seen pushing her wheelchair through the town. He was involved with many town organisations including the Subscription Library, where he organised their coffee mornings on Fridays and the Tavistock Museum where he stewarded on Sundays. He appeared in good health until very recently and it was only last year when the members of the Subscription Library and the volunteers at the Museum sprung a surprise 90th birthday party for Graham, an event which he very much appreciated.   
Roderick Martin, manager of Tavistock Museum, stated that he was greatly saddened by Graham's death. Graham was a Scotsman through-and-through but he had a deep love for Tavistock and an enthusiastic interest in its local history. He helped promote the 900th Tavistock Market Charter commemorations in 2005 and was the author of a number of publications including Nine Centuries of Tavistock Markets and Admiral Kelly of Kelly College. He was passionately interested in the railways and set-up in our Museum a small railway exhibition. All around our Museum we have important town artefacts such as our Tavistock North Railway totem sign and our 1953 Coronation Commemorative Plaque for the opening of the Old Folks Rest Room which we would not have acquired but for Graham's dogged determination. He was a keen photographer and recorded many images of now lost Tavistock buildings and businesses. Above all it was Graham's enthusiasm and loyalty which made him such a special volunteer.
Sue Davies, the previous manager of Tavistock Museum, has told that her friendship with Graham began soon after he came to live in Tavistock. He was keen to get involved in the life of the town and through his love of books and interest in local history became a keen supporter of the relatively new Tavistock Museum and the considerably older Subscription Library. He soon began to steward when the Tavistock Museum was located in the Town Council Offices in Drake Road, Tavistock. Over the years he researched many aspects of our town history but his greatest passion was for the railways, and for many years collected items for the Museum displays. He was extraordinarily generous both with his time and with gifts for the projects which interested him.
Age did not seem to diminish his determination to be involved in things. He cheerfully climbed ladders to help dismantle exhibits when the Museum moved to Court Gate in 2003, and on more recent occasions had to be restrained from lifting heavy boxes of books for sale into the archway. Photography kept him busy but got him into some tricky situations. On one occasion in 2011 he clambered up a steep hillside and then climbed a tree to take a photograph of the Gem Bridge under construction in the Grenofen Valley. I dread to think how many times his enthusiasm to take a good picture of an abandoned railway line or abandoned industrial site got the better of him. One got the feeling from Brenda, his wife, that this was just part of his endearing character and nothing out of the ordinary.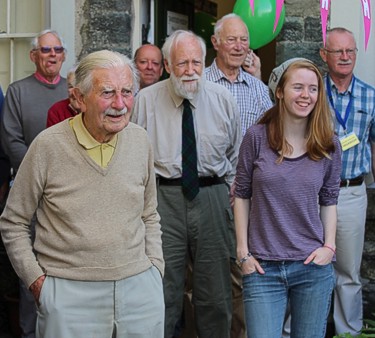 Graham is on the left in this photo of his 90th birthday party in 2016.
The little corner of Guildhall Square, Tavistock where the Subscription Library and Tavistock Museum are located became increasingly the centre of his world. When possible he would bring Brenda with him and talk cheerily to the many people he knew. He was the most polite and courteous of gentlemen, generous to a fault, thoughtful of others and never dull. There was always a new project or adventure just around the corner. New enthusiasms sometimes overwhelmed more balanced considerations but what a joy it was to be the friend of someone who was still discovering new interests in their nineties. Those who could keep up with him and knew him will always remember him with a smile.
Support the museum using Gift Aid
Charity No: 1200011
Museum Accreditation No: 2127