The Tavistock Museum will be open Mondays to Saturdays from the 24th March until the end of October. The museum will normally be closed on Sundays this season.
Our main exhibitions are:
One Hundred Years of Motor Buses in Tavistock 
Ronald Gard – A Hero of the Great Escape
100 Years of Motor Buses in Tavistock
Until the end of the First World War 1914-1918 the Tavistock area was dependent on steam railways and horse-drawn vehicles for public transport.
The first major operator of motor bus services in the area was the Devon Motor Transport Company founded in late 1919. The following year they began a market day service from Okehampton via Lew Down and Lamerton to Tavistock, other services from Tavistock to nearby towns followed.
With the merger of the Great Western Railway Road Motor services with National Omnibus Company in 1929 the newly formed Western National became the predominant provider of services around Tavistock.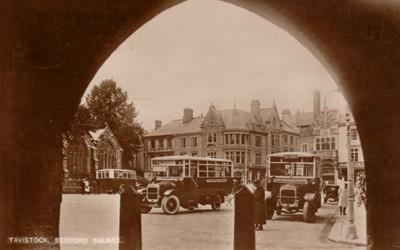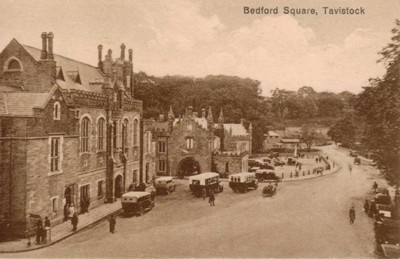 During the 1920s and 1930s car ownership was the exception and the bus was an essential part of everyday life. It provided a lifeline to the towns for many rural communities. It gave housewives a wider choice of shops as well as conveying the agricultural community to market. Children were taken to and from school. There were trips to the cinema, village events and sporting events as well as sabbatical school treats. Buses not only carried people but also a wide range of goods for local markets and businesses.
Many of the independent bus operators came and went but for many years the local villages were served by Bertram Cole who operated out of The Garage, Peter Tavy, Percy Down who operated out of the The Garage, Mary Tavy, Horace Goodman who operated out of 7 Callington Road, Lumburn, the Pridham Brothers who operated out of Down Garage, Lamerton, and the Sleep family who operated out of Station Road, Bere Alston. Such small bus operators were very much an essential part of the fabric of rural life. There was a very close
camaraderie between all of these companies and they
frequently helped each other out should there be a need.
Ronald Gard - A Hero Of The Great Escape
Ronald (Ron) Gard was born at Devonport in 1909 and at the start of WW2 in 1939 was working at the Bedford Street branch of Lloyds Bank in Plymouth. On account of the serious German air raids on Plymouth the bank relocated its staff to Grimstone House at Horrabrdge where Ronald spent his last six months before joining the Royal Air force in 1941 to train as a navigator at Torquay. His wife, Lilian, and his son, Michael, went to live at Wadebridge, Cornwall with his parents-in-law.
By 1942 he was flying on night raids over Germany. In 1943 Flying Officer Ron Gard joined 12 Squadron which was based at RAF Binbrook near Lincoln, and later re-located to nearby RAF Wickenby. He went on 24 trips but a raid on Mannheim proved to be his last one. The Lancaster bomber he was flying in was attacked and damaged by a German night fighter. When the pilot gave the order to abandon the stricken plane Ron stumbled to the escape hatch in the extreme nose of the plane and sat for a moment with his legs dangling in space. Suddenly there was the fury of cannon shells bursting around him as another fighter attacked and the nose of the aircraft fell away with Ron still inside it. Fortunately he managed to get clear and open his parachute. The pilot and an air gunner were killed but four other crew members besides Ron escaped by parachute.
Ron landed in the middle of a German searchlight battery and was immediately made a prisoner. He was taken to Stalag Luft III (shown on the right), where he was to remain for the next fifteen months. Here he became an active member of the X organisation, a highly secret organisation dedicated to planning escapes, and was involved in the Great Escape of March 1944. When the camp was closed in January 1945 he was forced to march in freezing weather to other prison camps as the Germans retreated before the Russian Army. It was his good overall physical fitness which helped him survive such an ordeal.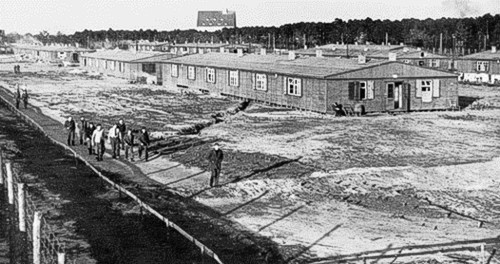 In May 1945 after liberation Ron Gard returned to his family then living in Wadebridge. Like so many servicemen he found it difficult to adjust being restless, unable to sit still or sleep properly at night. He was always full of praise for his wife, his relatives, and the people of Wadebridge who helped him through this difficult time. He returned to banking and worked for many years in the Tavistock branch of Lloyds bank. Golf was his main sport in later life. He become the captain of Tavistock Golf Club and later an honorary life member.
A hero in many eyes but not in his own. In 1978 Ronald Willis Gard died aged 68 at Freedom Field Hospital, Plymouth.
Support the museum using Gift Aid
Charity No: 1200011
Museum Accreditation No: 2127