Locality Grant Awarded to Tavistock Museum
Tavistock Museum has received a locality grant from Devon County Council which will be put towards the cost of new kitchen facilities for use by the museum volunteers.
Last Thursday (31st October) Cllr Debo Sellis presented a cheque for £3000 to museum trustee Linda Elliott. She said 'I am very happy to support Tavistock Museum. I believe this is an excellent use of the County Councillor's locality budget as the museum is of interest to our community and our visitors, and a real asset to our World Heritage Site. Well done and a big thank you to the wonderful team of volunteers.'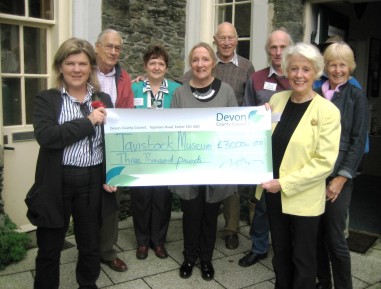 Debo Sellis and Linda Elliott holding cheque and, behind, left to right: Dick Eberlie, Shirley Rose, Ann Pulsford, Trevor Kerswill, Paul Croucher and Barbara Watson.
Left to right: Debo Sellis, Dick Eberlie, Shirley Rose, Ann Pulsford, Linda Elliott and Paul Croucher.
Linda Elliott said 'I am delighted that the museum has received this grant and we are very grateful to Mrs. Sellis for her support. Our stewards and photographic team are all volunteers who work long hours and do an absolutely brilliant job in running the museum. The new kitchen facilities have been a real boon for them.'
This year has been a very busy one for the museum which has recorded 7,500 visitors since Easter. Its season has now closed but it will remain open 11.00 am to 3.00 pm on Thursdays, Fridays, Saturdays and Sundays up until Christmas.
Support the museum using Gift Aid
Charity No: 1200011
Museum Accreditation No: 2127