Tavistock Museum Looks Forward To A New Season
The town museum will re-open on Saturday 26th March 2016 with two new exhibitions. There will also be a display of military vehicles outside the museum on the opening day.  This year's new exhibitions are:
'Commemorating 75 Years Since the Opening of Harrowbeer RAF Station, Yelverton'
and
Commemorating 75 Years Since the Opening of Harrowbeer RAF Station, Yelverton
This is an exhibition about the WW2 airfield which was opened in August 1941. Located near Yelverton the airfield was called 'Harrowbeer' to distinguish it from the similarly sounding RNAS Yeovilton in Somerset. It was operational as a fighter station for the rest of the war under the control of 10 Group Fighter Command which was responsible for the South West of England. It was also headquarters to the First Air Sea Rescue Squadron and reported to be a staging point for secret operations in Europe.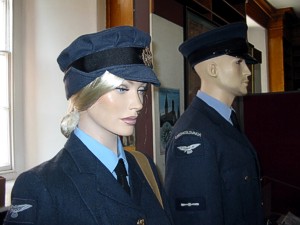 The airfield had three tarmac runways, the foundations for these, and some of the buildings, being rubble from Plymouth after the 'blitz' of March / April 1941. RAF Harrowbeer played a vital role during the war by providing air cover for merchant shipping in the English Channel watching for enemy E-boats and U-boats, operational sorties in the Cherbourg area, and later escort duties to bombers flying on their mission to and from targets in Europe. It was closed as an operational airfield at the end of July 1945. The museum is grateful to Mike Hayes who has put together an impressive exhibition of model aircraft, photographs and memorabilia.
Our second new exhibit for 2016 is a history of marriage. Before 1753 there was no legal requirement to take part in a formal ceremony for a marriage and many couples lived together without doing so. After 1753 marriage became a legal contract and the ceremony had to take place in the Church of England, only Jews and Quakers were exempt. In 1873 the law was changed and all marriages had to be registered wherever the couple married. In the exhibition there are examples of marriage certificates including one from America for William Henry Bolt, a local man who emigrated but later returned to Tavistock after his wife died.
The museum is grateful to the many local people who have contributed to the exhibition by loaning wedding dresses, family artefacts and lots of photographs of the 'big day'. Of particular interest are 'flapper' style dresses from the 1930s.
Roderick Martin, Museum Secretary, stated our town museum has received over 7,000 visitors annually since the opening of its extended premises three years ago. It has no paid staff and is run entirely by volunteers who are willing to give a day each week or fortnight to help with the many and varied museum activities. We very much welcome anyone who is interested in helping in our wide range of museum activities.
The museum will be open daily 11.00 am to 3.00pm until the end of October.
Support the museum using Gift Aid
Charity No: 1200011
Museum Accreditation No: 2127