Illuminating Darwin - Arabella's Light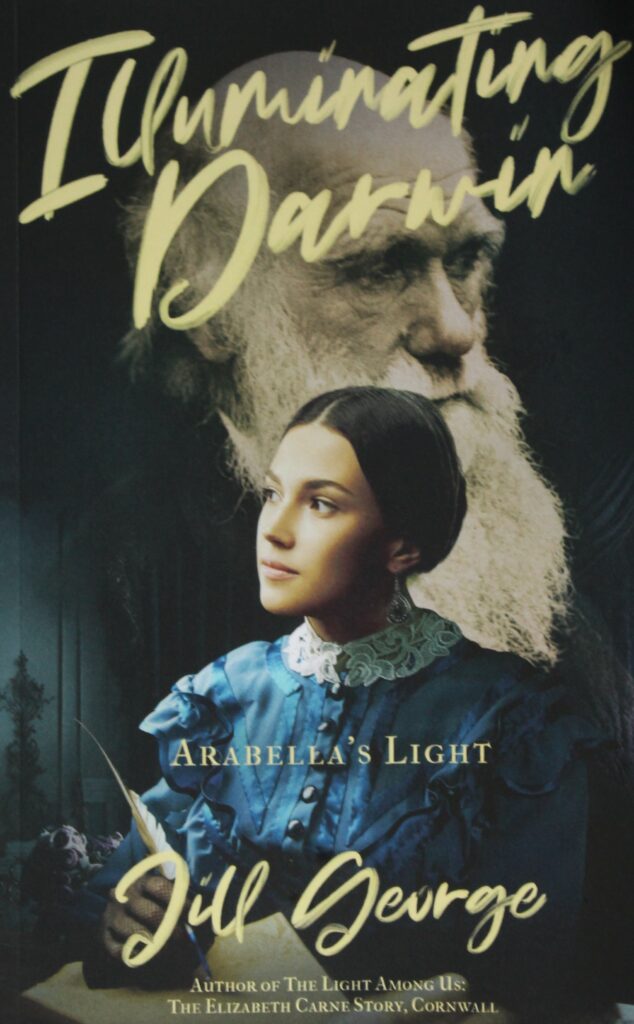 This is a new novel by American historical fiction author Jill George which was published in August 2023. Jill's novels are centred around real people but she weaves together the facts and in some instances introduces new lesser fictional characters to tell a story.
Last year Jill contacted Tavistock Museum to advise us of her forthcoming visit to undertake research in Tavistock as the heroine of her story, Arabella Buckley, lived at Walreddon Manor close to the town from 1893-1895. At her request the museum arranged visits for her to Walreddon Manor, courtesy of the present owner, and to the Plymouth Road cemetery where Arabella's husband, Thomas Fisher, who died in 1895 is buried.
Arabella Burton Buckley, the daughter of a Brighton vicar, was born in 1840. At the age of 24 she became secretary to the eminent geologist, Charles Lyell, and through him met many of the great scientists of the Victorian age including Charles Darwin, Thomas Huxley and Alfred Wallace. Arabella had no formal education but learnt about natural sciences and became one of Charles Darwin's closest friends. She stayed working with Lyell until his death in 1875, afterwards becoming an author and lecturer. Arabella was the author of a number of books of which the best known are The Fairy-Land of Science (1879), Winners In Life's Race (1893) and Eyes and No Eyes (1903). She was a supporter and defender of Darwin's theories of evolution but presented them in popular books for young audiences in a moral and Christian way.
In 1884 Arabella married an older widower, Thomas Fisher, who had returned to England in 1882 after working for thirty years as a medical practitioner and sheep farmer in New Zealand. At the time of the marriage she was 44 years of age and he was 64 years of age. Arabella had very modest residential tastes but indulged her husband's wish to lived in grand country houses where he could entertain his colonial friends in some style.
In 1893 the couple rented Walreddon Manor near Tavistock from the Courtenay Estate. A reason for this choice was for Thomas to be close to his grandson, Oscar Heriot, who was at Kelly College, then a boarding school for the sons of military officers. There was a close bond between Thomas, an absent husband and father to his first family, and the young Oscar. A Tavistock location would also have suited Arabella who needed to regularly meet with her publishers in London. The newly-opened Tavistock Station on the London and South Western Railway to Waterloo Station in London would have allowed her a fast and direct rail link to the capital.
Arabella had an outgoing personality and was a campaigner for women's rights. She felt great sympathy for the poorer classes but enjoyed socialising with the gentry. While at Walreddon she actively supported the local Liberal Unionist (opposed to Home Rule for Ireland) party but in the 1893 parliamentary election their candidate was unsuccessful. She was also a believer in spiritualism and telepathy. Her visits to mediums and attendances at seances are recorded in correspondence to fellow spiritualist Alfred Wallace.
Thomas Fisher died suddenly at Walreddon Manor on the 28th January 1895 and was buried in the Plymouth Road Cemetery in Tavistock. Arabella quickly terminated the tenancy of Walreddon Manor and vacated the manor at midsummer 1895. For a number of years she retained a Tavistock base in rented rooms at Brook Cottage located just down the hill from the manor and close to the entrance to the cemetery. However the start of the twentieth century marked a time when Arabella transferred her affection from our town to the sunnier coastal resort of Sidmouth in East Devon. She died aged 88 on the 9th February 1929 and was buried in the Sidmouth cemetery.
A copy of this interesting novel may be purchased on Amazon. Price £14.10 soft cover.
Support the museum using Gift Aid
Charity No: 1200011
Museum Accreditation No: 2127