Sunday School Banner Comes To Tavistock Museum
A large banner previously displayed in the United Reform Church at Tavistock has found a new home at Tavistock Museum. The cloth banner shows a painting of the imposing Congregational Church, a gothic structure with a tall spire, built in 1873 which once was a feature of Duke Street.
Unfortunately by the early 1960s this church building was in a poor state of repair. The Congregationalists relocated to the former Methodist Chapel in Russell Street. Nationally at about the same time they combined with the Presbyterian Church to emerge as the United Reform Church. Their previous home in Duke Street for nearly 90 years was sold to the Pearl Insurance Company who promptly demolished the Church and redeveloped the site.
For all its size the banner is quite light and therefore suitable to be carried on poles at Sunday School parades. 'Established 1799' on the banner refers to the date a Sunday School was started. A split had occurred in the Unitarian movement five years earlier and a minority group, the Congregationalists, broke away to set up their own Church elsewhere in the town.
Roderick Martin, manager of the museum, stated that he was very pleased that the museum was able to offer a home for the banner. It is a reminder of the important role the Congregational Church played in the history of the town. The banner must be at least sixty years old, and possibly older. It appears to have been made in two halves which have been joined down the middle. Any information about the age of the banner and who made it will be very welcome.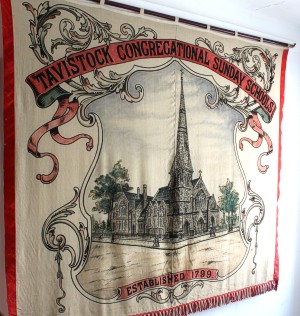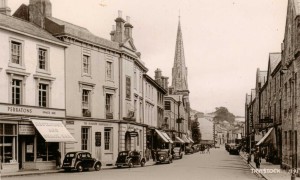 Support the museum using Gift Aid
Charity No: 1200011
Museum Accreditation No: 2127