Rare Tavistock Pot Lid Donated To Museum
The Museum has received a generous donation of a rare late-Victorian pot lid, which dates from the 1880s. The lid was found in a garden in Egham, Surrey and is only the second pot lid from a Tavistock business known. The porcelain lid – measuring 45mm in diameter – would have sealed a small glass container of waxy or greasy products, such as hair pomades, ointments and skin creams.
In the late nineteenth and early twentieth century, many people had great faith in their local pharmacist, visiting to get an instant diagnosis on minor ailments and invariably purchasing the recommended remedy. Thomas Pearce's credibility as a chemist was raised even further when in 1880, following a successful examination and interview with the Academy of Pharmaceutical Society in London, he was awarded membership. This qualification appears after his name on the lid and must have been a source of great pride to Thomas and his family.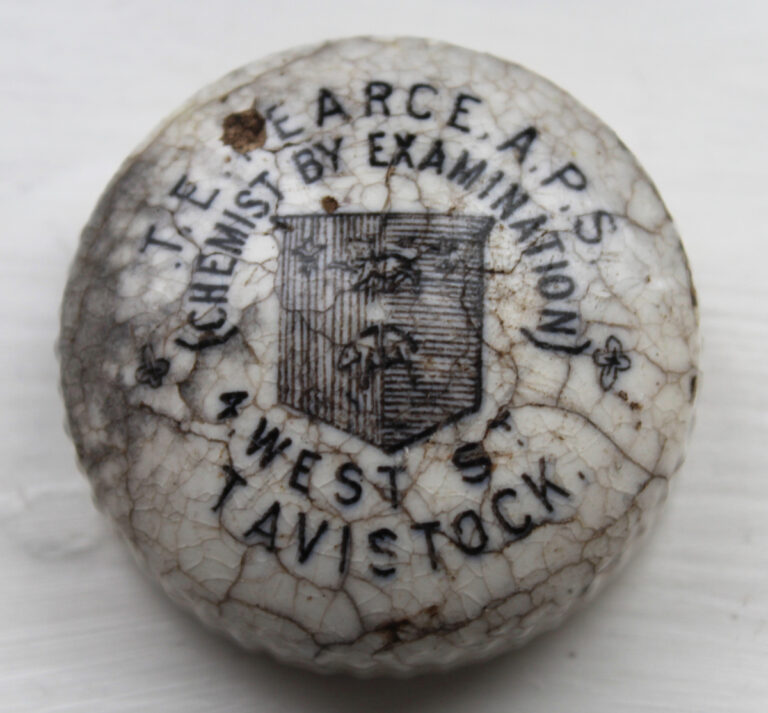 White glazed button potlids 45 mm diameter with Tavistock town crest in centre.

Tavistock Gazette Advertisement, 1883
Thomas Pearce and his sons were enthusiastic photographers and in 1904 they opened a photographic studio in the back of the 1 West Street shop. Besides undertaking portrait commissions, they sold high-quality images of carnivals, Goose Fairs, Band-of-Hope marches and other events as postcards. These are now a fantastic historical archive of the town in the years leading up to the First World War. Thomas's wife, Marion Pearce under her professional name, Marie Grace Pearce, painted a number of miniaturist portraits which were highly acclaimed and led to a number of commissions from the Royal Family.
Support the museum using Gift Aid
Charity No: 1200011
Museum Accreditation No: 2127