Turtle Returns To Tavistock
The museum has added the 'Tavistock Turtle' made by the Tuscan Pottery to its collection of crested-ware porcelain china. It is a rare object as it is likely this little sea creature would not have been a popular seller in our inland town.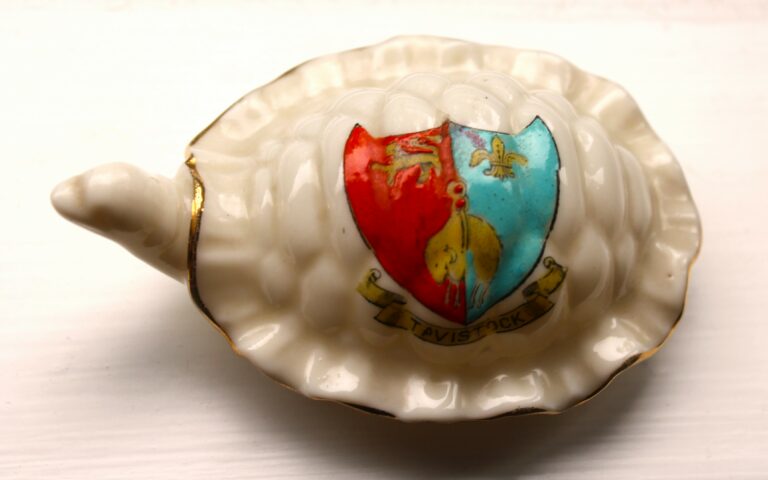 "Tavistock Turtle" made by the Tuscan Pottery
In the 1880s Adolphus Goss, keen to revitalise his father William Henry Goss's pottery business. He spotted a potential market based on persuading Victorian (and later Edwardian) holidaymakers to buy porcelain miniatures. Something they would not even think about buying at home.
Crucial to the success of his venture was the easy association of a porcelain miniature with those happy holiday memories. In some places there were readily identifiable features i.e. Blackpool with its tower, but for the majority of towns their name and coat-of-arms was to prove the perfect link. Goss successfully built up a business supplying one retail outlet in each British town with porcelain miniatures bearing the town's coat-of-arms. For locations which did not have a registered coat-of-arms a suitable one could always be quickly designed.
Other potteries in North Staffordshire such as Arcadian, Carlton, Grafton, Savoy, Shelley, Tuscan and Willow Art joined in the so-called crested-ware trade. Unlike Goss, they supplied as many outlets as possible. However one rule was maintained by all potteries – crested ware could only be purchased in the named place. So crested ware with the name and town crest of Tavistock could only be bought in Tavistock, and nowhere else. It is therefore likely our loveable turtle was purchased in Tavistock over a hundred years ago and for many years remained on a mantelpiece as a reminder of a happy visit to our town. Now thanks to the internet it has returned to Tavistock.
Support the museum using Gift Aid
Charity No: 1200011
Museum Accreditation No: 2127